Tomlinson Lake Hike to Freedom Trail
Quick Facts
| | |
| --- | --- |
| Difficulty | moderate |
| Trail Type | linear |
| Distance | 3.2 km one way |
| Estimated Time | 1 hour 15 mins return |
| Surface Type | old road, forested |
| Elevation Change | 47 meters |
| Features | history, stream, lake |
| Trail Markers | wooden blocks, signs |
| Scenery Rating | beautiful |
| Maintenance Rating | well maintained |
| Cell Reception | variable |
| Dog Friendly | yes |
| Fees | by donation |
Description
The Tomlinson Lake Hike to Freedom represents a little known part of New Brunswick history. In the mid-1800's people trying to escape slavery used the Underground Railroad to head north to Canada. Canada abolished slavery in 1834, thirty years prior to the US, so Canada was seen as a safe place. The Tomlinson Lake Hike to Freedom Trail is one of the terminuses of the Underground Railroad. There are several detailed interpretive signs along the trails telling about the history.
The trail itself starts in a field with a large fire pit on one edge. The trail goes down a hill and turns right on an old road. The road continues down the hill until it crosses a bridge. After crossing the bridge the trail enters the woods and climbs the hill to the left away from the old road. Here you will find a tree with signs pointing to all of the places that would have been important 150 years ago.
The trail follows along a stream. There are some steep sections along the stream, and the mud underneath can be quite slippery so use caution. The trail climbs a hill into a softwood stand. At the top of the hill you will find a replica of a Pit House. If you were thinking slaves had it great when they reached Canada you would be wrong. They arrived in a place where they had no land and landowners didn't offer much for work or pay around their farms. They survived the winters by building these very small huts in the woods that could be easily abandoned and rebuilt somewhere else if they were caught on someone's land. These small huts were built out of small logs over a dug out hole in the ground.
Just past the pit house the trail begins to descend the hills and meets another old road that goes down the hill. At the bottom the trail once again enters the woods and follows the stream. After crossing another bridge in a steep ravine the trail comes to an access road at the end of the Glenburn Road.
The trail continues through the woods for just over a kilometre. The trail ends on the back side of Tomlinson Lake. We didn't get a chance to hike this section yet so stay tuned for more details.
Note: This trail is close to the US border so you may want to turn roaming off on your cell phone to keep from getting US data charges.
Directions
From Perth-Andover head west on Route 190 towards Carlingford. After 3 kilometres turn left onto Miller Road. Soon after this turn right onto Glenburn Road. After 1.8 kilometres keep left on Glenburn Road. After 800 meters you will see the sign for the entrance of the parking lot on the right. The address for the parking lot is 250 Glenburn Road.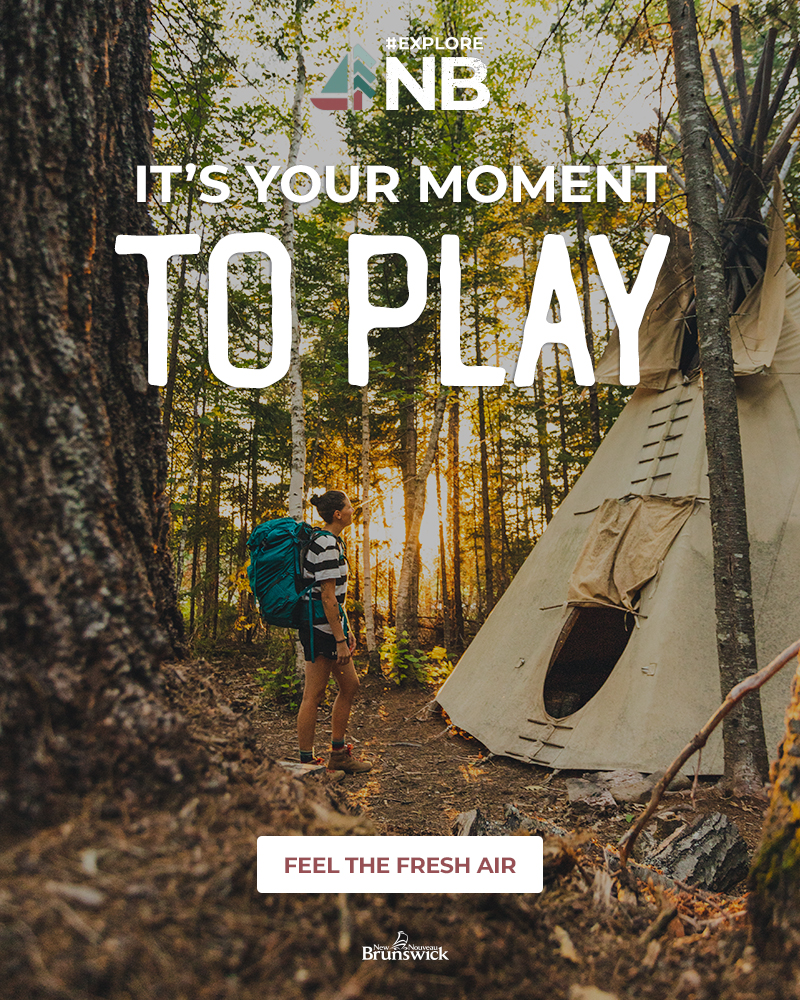 Trail Last Hiked: June 1, 2019.

Page Last Updated: June 2, 2019.