Upper Miramichi Community Park Trail
Quick Facts
| | |
| --- | --- |
| Difficulty | accessible |
| Trail Type | loop |
| Distance | 1.3 km |
| Estimated Time | 30 mins |
| Surface Type | crushed rock, pavement |
| Elevation Change | 13 metres |
| Features | wooden statues, playground |
| Trail Markers | signs |
| Scenery Rating | recreational |
| Maintenance Rating | well maintained |
| Cell Reception | strong |
| Dog Friendly | on a leash |
| Fees | none |
From the Sign
Welcome to Boiestown
The Geographical Center of New Brunswick
Here Standeth Mute & Still
Two hand-carved wooden statues, one a lumberman and the other a fisherman, were erected in Boiestown (across from the Circle K) by the Miramichi Board of Trade. The artist who carved these statues was Vernon Dunphy of Boiestown. They were placed on this spot to mark the geographical center of New Brunswick, which had been previously marked by a concrete block. These statues have caught the attention of many passerby. One Ontario child fondly referred to them as "The Boys of Boiestown." Now they stand across from the Central New Brunswick Woodmen's Museum, where they've been since 1986.
The Legend of Mute & Still
They tell me that the time has come
To identify the men
Who stand so straight, beside the road
And are so tall and thin
They say you're looking for a name
'Cause titleless they be
The time has come, when I must tell
Just how they came to be!
Away back, many years ago
A giant pine tree grew
One day it happened, so I'm told
That pine tree went "KERCHOO"
And all at once, beside it's base
As quick as you could wink
Two tiny seedlings came to life
Before that tree could think
And slowly, very carefully
They lifted up their heads
The sun shone brightly down on them
And warmed their mossy beds
They stretched their tiny branches out
And scanned their surroundings
Yes, this was where their life began
The Land of Nature's Things
And thus began their journey on
Ma Nature's road of life
But soon, their close proximity
Was cause for woe and strife!
They argued when their branches touched
Each thought his limbs were greener
It was so hard to estimate
Which of the two were meaner!!
They fought for room to grow and stretch
Their roots became entangled
From daybreak until even's tide
They snarled and they wrangled
The animals would gather 'round
They watched from front row chairs
The bear, the skunk, the sly old fox
They all came from their lairs
And soon their squabbles did evoke
Old Mother Nature's ire
The clouds did gather overhead
Her eyes lit up with fire
She warned them o'er and o'er again
But still they argued on
Until, at last, her patience spent
She roared, and they were gone!!
She sent them soaring through the air
She trimmed each branch and limb
And set them down, beside the road
Each carved to look like men.
And one last thing, that she did do
(it gave her quite a thrill).
She put a sign upon their trunks
"Here Standeth MUTE AND STILL!!"
"For how they grumbled in my world
And n'er could get along
And so, I brought them back to man
Right where they sure belong.
I made them quiet as two mice
And hope that's how they stay."
And that's the story I was told
Now I'll bid you all a Good-Day!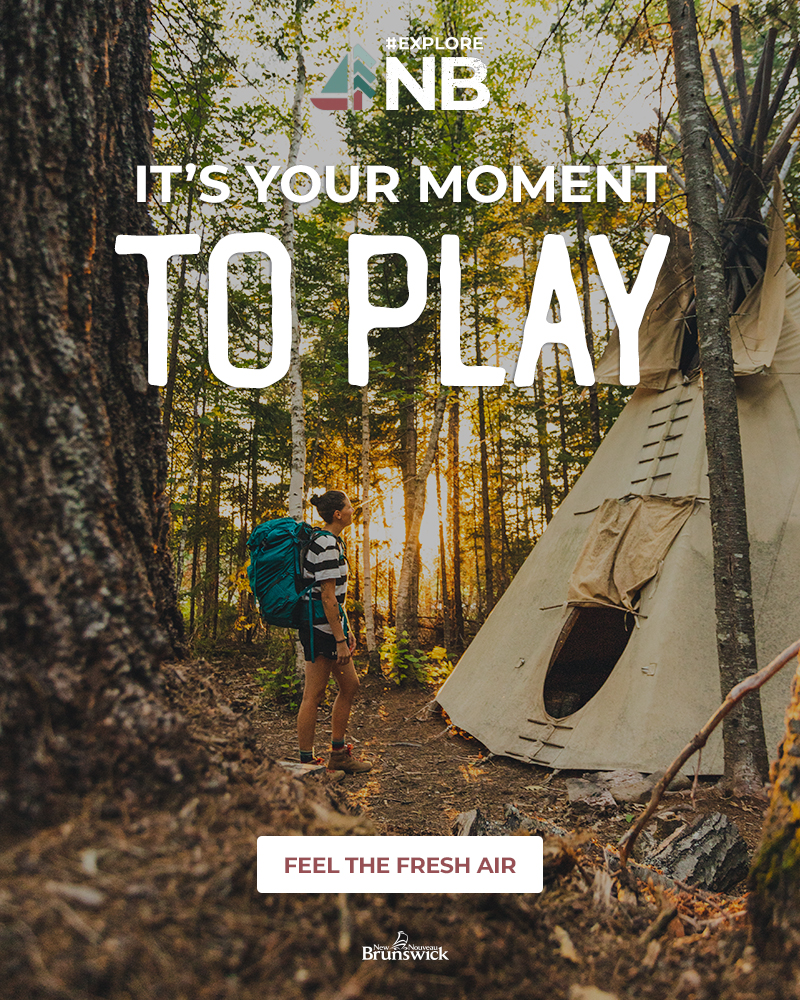 Description
The Upper Miramichi Community Park has a playground (for kids and adults), a splash pad, and an arena. It also has a water bomber plane, wooden statues, and an old piece of forestry equipment to explore. The trail starts as a paved trail along the playground and then turns into crushed rock.
The trail travels behind the wooden statues and the forestry equipment with side trails to explore each. It then continues in a large loop around the site of what used to be a campground. The trail travels through a beautiful white pine stand, through a spruce and fir forest along the back, and then through a mixed forest along the side. There are several picnic tables along the trail where you can stop and enjoy the woods.
If you are driving from Fredericton to Miramichi, the Upper Miramichi Community Park makes a great place to stop and take a walk in the woods.
Trail Last Hiked: August 23, 2021.

Page Last Updated: December 25, 2021.