Quick Facts
| | |
| --- | --- |
| Difficulty | moderate |
| Trail Type | linear |
| Distance | 800 metres |
| Estimated Time | 45 minutes |
| Surface Type | old road |
| Elevation Change | 26 metres |
| Features | crevice, Chimney Rock |
| Trail Markers | None but easy to follow |
| Scenery Rating | special features |
| Maintenance Rating | variable |
| Cell Reception | none |
| Dog Friendly | yes |
| Fees | none |
Description
The trail to Chimney Rock is not really a trail at all. It is an old road that becomes increasingly rougher as you get closer. You should have no problem getting to where you turn off the main gravel road at the 29 km marker since this is a main haul road. After this point it depends on how recently there were forestry operations in the area, and how daring you are with your 4 wheel drive. The last section of old road is very rough and probably only passable by ATV. With an ATV you can drive right to Chimney Rock.
The last section of road travels along a hardwood ridge and makes for a nice walk. The trail then comes into a more mixedwood forest. You eventually come over a small hill to see the sign for Chimney Rock on a tree by a bench on your left. Directly across the road from the bench is the ravine that holds Chimney Rock. If it wasn't for the sign and bench you could potentially walk right on by the narrow ravine and never notice it was there.
The ravine is a very impressive rock formation. It is a narrow, deep crack in the rock, full of loose, large boulders, and of course Chimney Rock. A steel ladder has been erected at the opening of the ravine to allow easy access to the bottom of the crevice. The solid rock walls seep with water, and in the winter these small trickles create large icicles. In the summer months moss and ferns cover the wet rock walls.
Near the end of the ravine is Chimney Rock. Chimney Rock is a large square rock spire that has broken away from the main rock wall and leans towards the middle of the crevice. Its approximately 20 feet tall and 6 feet by 6 feet square. You can walk through the narrow passage between the rock wall and Chimney Rock to get a better look.
Just past Chimney rock the valley opens up until it becomes a regular, but steep, stream valley. This is a unique rock formation that I haven't seen anywhere else.
Chimney Rock is on Crown Land managed by Acadian Timber Ltd.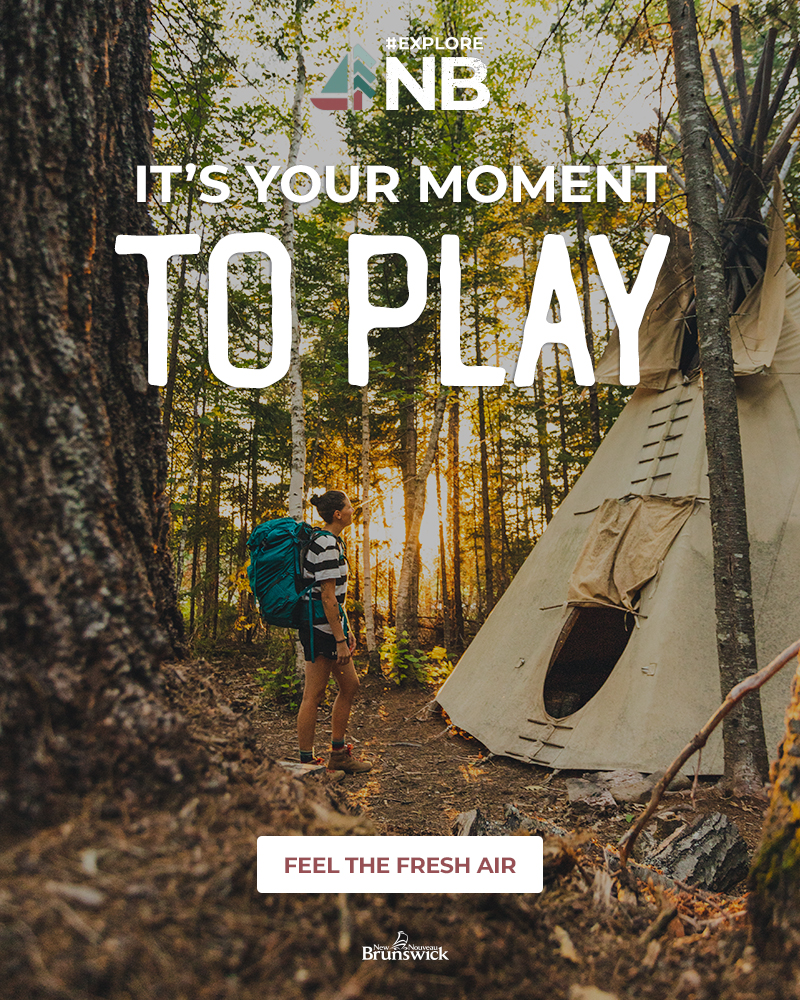 Directions
Heading west on Route 104 continue past the turnoff to Crabbe Mountain Ski Resort and continue towards the Village of Millville. You will go down a long hill. A main haul road for the Nackawic Pulp mill crosses Route 104 near the bottom of the long hill. If you cross a bridge you have gone too far.
Turn right and head north on this haul road. Warning: This is a heavy truck traffic road. Be extremely careful driving on the roads beyond this point. After approximately 8.5 km (just past km marker 18) there is a main J. D. Irving haul road called the D20 that goes off at an angle to the left. Take this road. The kilometer markers on this road begin to count down. This is a quick way to know you are on the right road. Drive for approximately 27.75 km just before kilometer marker 20 (between km marker 20 and 21) and you will find a road to your left. The road climbs a small hill at the start. Directly across from this road is an orange steel post with the number 29 written on it (see photo).
Follow this side road to the left for a little more than 2 km and you will find an old road going off to the right. There is a sign on the tree showing this way to Chimney Rock – Glacial Remains. You will probably have to walk from here. Follow this road for about 750 meters and you should see a bench on the left side of the road and a sign for Chimney Rock. On your right you will find a small ladder that will take you down into the ravine to Chimney Rock.
Trail Last Hiked: June 20, 2015.

Page Last Updated: November 29, 2017.